Eastern Montana communities hit hard by wildfires receive massive influx of donations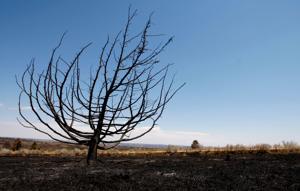 Charred trees stand on blackened earth along Old Stage Road in Garfield County Thursday, after the Lodgepole Complex fire burned through the area.
So much hay, food, fence materials, money and other donations have poured into Garfield County since the Lodgepole Complex fires tore through more than 270,000 acres of rangeland in July that officials there are asking donors to redirect their support elsewhere in Montana.
"We've been just overwhelmed by the local generosity," said Anne Miller, a county spokeswoman and deputy coordinator for the county's disaster and emergency services office.
Although the supplies were desperately needed to combat the months-long drought and catastrophic fires that have battered the local ranching community this summer, Miller said coordinating the massive influx of support in the fires' aftermath was at times its own struggle.
To date, they've received 375 truckloads of hay, which she estimates at more than 8,000 tons. Hundreds of miles of livestock fences have been repaired with donated labor and ...
Added: one year ago