New court aims to keep Native American foster kids connected to family, culture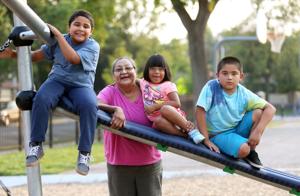 Bonnie Littlesun with three of her grandchildren DeQuisyan Littlesun, 7, Kayenta Tsosie, 5, and Dominic Roundstone, 8, pictured Thursday, August 31, 2017.
Bonnie Littlesun is raising eight children, all but one of whom are her grandkids, and she wouldn't have it any other way.
"They're crazy," she said, laughing. It was mid-morning on Thursday and she had a brief break while her grandbaby slept and the others were at school. The kids range in age from 13 months to 18 years old.
Littlesun has legal guardianship of some of the kids and is caring for the others as a licensed foster care provider through the Northern Cheyenne tribe.
She speaks Cheyenne at home with the kids, even when they don't understand it all, and they make regular trips to Lame Deer to visit extended family for birthdays and family dinners.
Officials involved in Montana's foster care system lament the shortage of homes like Littlesun's, where Native American kids who have been removed from their parents can still grow up with family and their cultural identity intact.
And they're hoping a new specialty court in Yellowstone County will improve outcomes for all Native American kids experiencing abuse or neglect.
ICWA
In July, Montana's 13th Judicial District began operating the nation's fifth Indian Child Welfare Act court. It will handle all ICWA cases in Yellowstone County for Northern Cheyenne, Crow, Assiniboine and Sioux children, since those are the ...
Added: one year ago