Little growth reported on Eastern Montana fires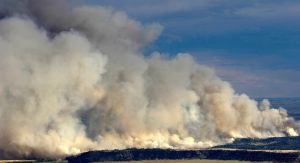 While several large wildfires continue to burn in central and Eastern Montana, reports indicated that no major growth had occurred by Sunday evening despite soaring temperatures and high wind gusts predicted across most of the state.
The East Fork fire, burning 21,500 acres south of Havre, was 40 percent contained, according to a Sunday evening update from the fire team battling the blaze.
A public meeting for Hill County residents affected by the fire will be held at the Havre High School on Monday at 4 p.m. Additional meetings will focus on residents of Blaine County and the Chippewa Cree Tribe, an announcement from the fire team stated.
To the southeast, the Sartin Draw fire grew slightly from more than 91,000 acres to nearly 100,000 acres by Sunday evening. However, it was considered 85 percent contained, according to an update from the fire team managing that blaze.
No new growth was reported Sunday on the Battle Complex, a pair of wildfires burning more than 90,000 acres in northern Wyoming and Southeast Montana, according to the Miles City Interagency Dispatch Office.
The larger of the two, the 73,285-acre Brush Flat fire, was reported 90 percent contained by Sunday evening. The nearby Tidwell fire had been fully contained by Saturday afternoon.
A red flag warning remains in effect through Monday at 9 p.m.across nearly all of Montana.
Added: one year ago