Hot, windy, dry weather leads to Red Flag Warnings ahead of Labor Day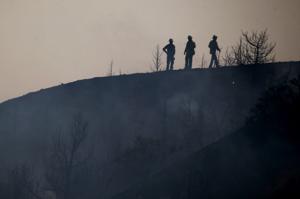 Firefighters from Billings, Blue Creek and Montana DNRC mop up a small grass fire off Collier Road on Saturday afternoon
As Labor Day approaches, much of Montana and parts of Wyoming will be under Red Flag Warnings due to weather conditions that could lead to fire growth and starts. 
The National Weather Service in Billings has announced that a Red Flag Warning will be in effect from 9 a.m. Sunday to 9 p.m. Monday for the following Montana counties: Golden Valley, Musselshell, Wheatland, Big Horn, Carbon, Park, Stillwater, Sweet Grass, Yellowstone, Carter, Custer, Fallon, Powder River, Rosebud, Treasure and Gallatin. 
In Wyoming, Big Horn, Johnson, Sheridan and Washakie counties will be under a Red Flag Warning over the same time period. 
Regional temperatures are expected to be well into the 90s on Sunday coupled with gusting winds and low humidity.
In Billings, relative humidity will be near 10 percent and daily highs are likely to be around the mid 90s. Winds could gust up to 20 mph or greater. East of Billings, communities like Miles City, Broadus and Baker could see gusts of 35 mph. 
A dry Canadian cold front will come down over the area Sunday night, dropping temperatures at least 20 degrees, Lester said. Despite the possibility of temperatures in the 70s on Monday, fire fuels will remain dry and winds will remain active and gusty. Lester said it "couldn't be more critical" that people be consc ...
Added: one year ago