Fire burning in southeast Montana doubles in size; air quality unhealthy in nearby town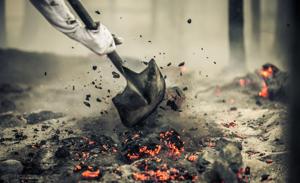 UPDATE as of Saturday, 9:30 a.m.: The Sartin Draw fire grew to 91,000 acres as of Saturday morning, according to an update provided by the Montana DNRC county assist team. It remains 10 percent contained.
Resources on the fire include 31 engines, three crews, nine heavy equipment and 190 personnel.
On Saturday, local, state and federal firefighers will continue to build and improve fire lines and burn out areas of unburned line. They will also be working to secure the fire perimeter in front of Sunday's forecasted cold front.
Pre-evacuation notice remains in place for residents north of Merchant Cut, west of Highway 59 and south of 674 Road. 
Air quality Saturday morning also remained unhealthy for the towns of Broadus and Birney, according to the Montana Department of Environmental Quality.
---
The Sartin Draw fire burning in Powder River County has doubled in size to about 80,000 acres as of Friday morning, fire officials said.
The Montana Department of Natural Resources and Conservation's County Assist Team assumed management of the wildfire at 4:30 p.m. Thursday, said Mark Jacobson, a spokesman for the Miles City Interagency Dispatch Center.
The team demobilized from the Mendenhall fire in Big Timber and brought more than a dozen engines, one crew and three pieces of heavy equipment to the Sartin Draw fire.
The fire was reported on Wednesday morning and local, state and federal fire r ...
Added: one year ago