Stockman Bank CEO, D.A. Davidson chairman, others join Montana Business Hall of Fame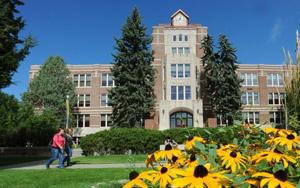 Montana State University Billings
Coffee
Johnstone
Nicki and Rick Larson
Garcia
Leaders in banking, finance and health insurance were named Wednesday to the Montana Business Hall of Fame.
The 2017 inductees will be honored at the fourth annual Montana Business Hall of Fame Banquet Sept. 29 at the Northern Hotel. The Montana Business Hall of Fame is located at the Montana State University College of Business. This year's honorees are:
• Bill Coffee, president and chief executive officer of Stockman Bank. Coffee was named CEO of the Montana banking company in 2009. Stockman Bank, founded in Miles City in 1953 with an emphasis on community banking, has expanded across the state and is recognized as one of Montana's strongest banks, one of the state's most active commercial lenders and the state's largest agricultural lender.
• Bill Johnstone, chairman of the board, D.A. Davidson Companies. D.A. Davidson has experienced tremendous growth under Johnstone's guidance. The company's employee base has doubled, and key measures such as revenues, the number of clients, client assets and the number of offices have tripled. Johnstone has served on numerous boards across the state and was tapped by Gov. Steve Bullock to co-chair the Main Street Montana Initiative. He has also served on the Montana Board of Regents.
• Nicki and Rick Larson founded ...
Added: one year ago