Daines: Don't sabotage the Affordable Care Act — replace it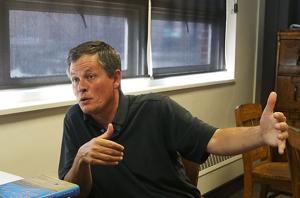 Sen. Steve Daines, during an editorial board meeting Tuesday at The Montana Standard: "You have to unilaterally condemn the white supremacists."
Sen. Steve Daines believes that the Affordable Care Act still needs to be repealed and replaced. But in the meantime, he does not support President Donald Trump's stated plan to sabotage the current healthcare law.
After the Senate failed to pass healthcare reform legislation last month, Trump repeatedly threatened to cut off cost-sharing payments to insurance companies, which lower premium costs.
"I don't like that," Daines said. "What's the matter with that is, people get hurt. We need to solve this problem, not just hope it goes away. It's not going away."
In a wide-ranging editorial board discussion with The Montana Standard and the Helena Independent Record Tuesday, Daines also pointed to some congressional success in the Trump Administration -- the passage of several bills benefiting veterans.
"These are bills that have languished in a couple of Congresses," Daines said.
"When I first met with (VA) Secretary (David) Shulkin I asked him, 'What's the one thing we can do to help you do your job?' He said, 'Pass the VA Accountability and Whistleblower Act,' and we did," Daines said. "It gives him a chance to reshape the agency."
Daines said he and Sen. Jon Tester would continue to work together to secure funding for a veterans' home in Butte, as well as a VA facility in [Read More ...]
Added: 10 months ago