Montana considers huge ranch purchase — 24,000 acres north of Miles City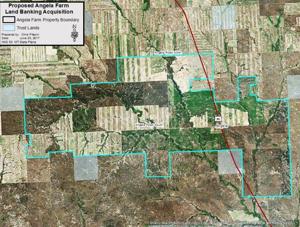 This map outlines the Angela Farms acreage.
This photo shows the dryland Angela Farm.
The state of Montana is considering what would be the largest and most expensive purchase through its land banking program, almost 24,000 acres of dryland acreage about 30 miles north of Miles City that has an asking price of $15.97 million.
The Angela Farm in Rosebud County would be bought with money the state has acquired from the sale of other state parcels, known as its Land Banking fund. Since 2006 the fund has purchased almost 70,000 acres at a cost of $35.54 million. The money to make those buys came from the sale of more than 79,500 acres of state land for more than $54.6 million.
The idea of the Land Banking system is to divest the state of lands that are less profitable and may be inaccessible and replace those with parcels that can earn more money while also providing access to the public for recreational activities and protecting wildlife habitat.
The Angela Farm "property supports antelope, deer, waterfowl and upland game bird hunting opportunities, as well as hiking and bird watching," according to the Department of Natural Resources and Conservation, which administers the Land Banking program.
According to the Land Board's July 24 agenda, the property is projected to earn the state $480,000 a year in revenue, a 3 percent return over 20 years. The acreage is divided between about 14,996 acres of drylan ...
Added: 10 months ago