Train hits grain truck near Miles City, injuring driver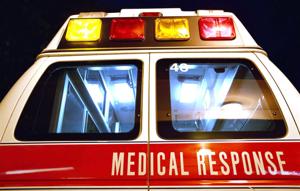 A train collided with a grain truck near Miles City on Sunday evening, leaving the driver in critical condition and the truck in "several different pieces," according to Miles City Fire and Rescue Battalion Chief Branden Stevens.
The driver was a man in his mid-40s from the Miles City area. No one else was injured in the wreck, which occurred near the intersection of Old Highway 10 and Lapp Road, about 20 miles northeast of Miles City.
Stevens said the man sustained "serious, traumatic injuries" when he was ejected from the vehicle. He was taken to Holy Rosary Health Care in Miles City, then taken by air ambulance to Billings.
Parts of the grain truck were scattered up to a quarter mile up the track, where the train finally came to a halt, Stevens added.
Brandon Kelm with the Montana Highway Patrol, which is investigating the crash, said the train was empty and traveling "upwards of 50, 60 miles an hour" when it hit the truck, according to rail company employees. No one aboard the train was injured in the crash, which derailed two locomotives and 18 rail cars.
The Custer County Sheriff's Office and the Prairie County Sheriff's Office also responded to the scene of the collision.
Added: one year ago