Young rabbinical students travel around Montana visiting and encouraging Jews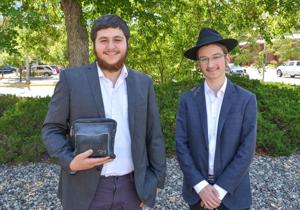 Who knows when someone might need a spiritual lift?
Rabbinical students Leibel Kaplan, 19, and JJ Polter, 20, found themselves in a check-out line at the Great Falls Walmart the other day when a man in line with them spoke up.
"He said 'shalom, how are you? You're Jewish!' " Kaplan said in an interview on Friday. "And he's like, 'I've been dying to see a rabbi for the past seven years.'"
That the two, garbed in dress shirts and suit coats, with yarmulkes (or skull caps) on their heads, were easy to spot in the central Montana town. The pair spent time with the man, helping him connect with God.
Kaplan called that meeting and the others like it since the two arrived in Montana on June 29 "divine providence." It's made their first visit to Montana memorable.
"There's no words to describe it, to bring light to these Jews and to inspire and help them out," he said.
Kaplan, who lives in Toronto, and Polter, from just outside Detroit, are both in training to be rabbis. Kaplan will spend a year in Brazil and Polter his second in Los Angeles toward that goal.
But this summer, the two men joined more than 350 other rabbinical students traveling in the United States and in 100 other countries, encouraging other Jews in their faith. Both are members of Chabad-Lubavitch, a branch of Orthodox Judaism that has its headquarters in Brooklyn, New York.
A tenet of the movement, which has its roots in 1700 Lithuania, is to care for the spir ...
Added: 10 days ago