Progress continues on July fire containment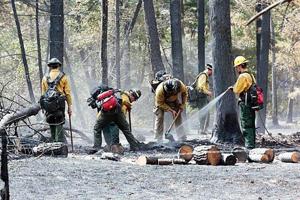 Firefighting crews continued making progress overnight Thursday on containing the July fire burning between Zortman and Landusky in Phillips County, the Northern Rockies Incident Management Team said Friday morning.
The 11,440-acre fire is 85 percent contained, with 264 personnel working on the fire, the agency said.
Thursday's continued cooler temperatures and moderate humidity allowed aircraft and ground crews to continue burnout operations in the northern areas of the fire. The burnout activity was "very successful" in removing understory vegetation and reducing fuels left in the targeted area, the agency said.
Firefighters on the ground continued patrolling for hotspots along cool areas of the fire.
Friday's temperatures are expected to increase while humidity will be lower, and there is a red flag warning, along with a heat advisory, in effect for Friday and Saturday.
Area residents and visitors will continue to see smoke as interior pockets of fuel continues to burn, the agency said.
Meanwhile, law enforcement with the Bureau of Land Management continues to investigate the July Fire as a suspected human-caused fire.
The fire is under the management of a Western Montana Type II Interagency Management Team, with assistance from the BLM, Bureau of Indian Affairs, Fort Belknap Reservation, the Montana Department of Natural Resources and Conservation and the sheriff's offices from Phillips and Blaine counties.
In other f ...
Added: one year ago