Panel criticizes rules that prevent using helicopters to fight fires on federal land in Montana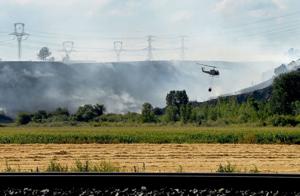 Despite an agreement worked out last year, a group of Montana legislators is reigniting a debate over why state helicopters can't be used to fight federal fires except when lives are threatened.
On Wednesday the Environmental Quality Council — composed of 12 legislators and four members of the public who met by conference call — unanimously approved sending a letter to Secretary of Agriculture Sonny Perdue and Secretary of the Department of the Interior Ryan Zinke stating their displeasure with the federal standards.
"Regarding the issue relative to the Department of Agriculture, there appears to be an ongoing refusal on the part of the federal government and the Forest Service to allow our Montana (MT-205) helicopters to be classified as approved aircraft for initial attack on federal lands," the letter stated. "The aircraft are safe and effective and are integral to fighting wildfires in Montana. For them to be allowed on all lands in the state except federal land because of a bureaucratic technicality is not logical."
June meeting
The letter was drafted after a few members of the EQC stated their displeasure with the agreement at the group's June 30 mee ...
Added: one year ago