Kurt Alme of Billings nominated to be Montana's U.S. Attorney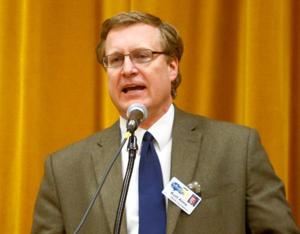 The White House on Thursday nominated Kurt Alme of Billings to be the new U.S. Attorney for the District of Montana, following a recommendation from Sen. Steve Daines, Montana's senior Republican congressman.
If confirmed by the Senate, Alme — a former First Assistant U.S. Attorney who now runs the Yellowstone Boys and Girls Ranch Foundation — will fill the role vacated earlier this year by Michael Cotter.
In March Cotter, along with 45 other U.S. Attorneys appointed during the Obama administration, was told to resign by President Donald Trump.
In a statement announcing his recommendation, Daines said he looked for someone with experience in federal law enforcement as well as an awareness of "the most pressing criminal issues facing our state."
"Montanans deserve a U.S. Attorney with public safety and management experience and that person is Kurt Alme. He is the right person for this job," the senator said.
The U.S. Attorney for the District of Montana serves as the chief federal law enforcement officer for the largest geographic federal court district in the lower 48 states.
Alme, a Great Falls native who went to high school in Miles City, graduated cum laude from Harvard Law School in 1992 and is a Harry S. Truman Scholar. He clerked for U.S. District Court Judge Charles Lovell before joining the Crowley Law Firm in Billings. There he practiced nonprofit law, business and estate planning, and tax l ...
Added: one year ago