Montana foster kids face challenges as they age out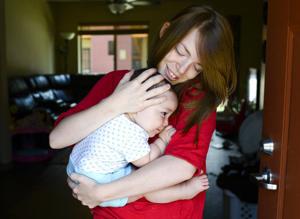 BOZEMAN — Her name is Heaven, but much of her childhood sounds like hell.
Heaven Reel was placed in foster care at age 16, after state social workers found evidence of neglect or abuse in her home.
"We were always hungry," Heaven said.
She recalls grocery money squandered on alcohol. Having to eat crab apples from people's yards. Getting bread at the Food Bank. Staying locked in her room at night and listening to beatings. Hearing, "I am the God of this house and I control every one of you." Trying to step in to stop someone being choked and getting three of her ribs fractured. Running away. Ending up in the hospital. Sleeping in a car.
Heaven said she reported the abuse and neglect to people at her middle school, and called police and Child and Family Services, time after time.
Keep making reports, they told her. Yet no one intervened enough to stop it.
"She begged for help for a long time," said Katie Davies, Heaven's foster mom. As a teenager, Heaven had to become the adult for her younger siblings, Davies said. She would save the money she earned at restaurants and babysitting to buy clean clothes and school supplies for her sister and brother, so they wouldn't feel as judged by other kids as she had.
One day, Heaven came home and found an adult passed out, a large knife gripped in one hand and a row of wounds on the other arm. She took photos of that and the empty vodka bottles littering the floor.
That's when Child ...
Added: one year ago