After mysteriously losing his ability to walk, foreign exchange student takes first steps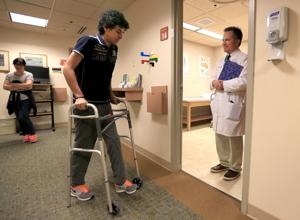 Sandro Maisashvili took his first steps on Thursday nearly five months after he mysteriously lost his ability to walk. 
It was an emotional moment that left his mother beaming and his neurosurgeon emotional. And it almost didn't happen.
Maisashvili, 17, is a foreign exchange student from near Tbilisi, Georgia, between the Caspian and Black seas. He arrived in Terry last fall with two other European exchange students, moved in with his host family and attended high school there. 
"It was fun," he said on Thursday, flashing his huge grin. 
And then everything changed in late January. It began as a dull pain in Maisashvili's back. Within days he had lost sensation in his legs. His host family took him to a doctor, and he eventually ended up in Miles City, where he received an MRI that showed what looked like a possible infection near his spinal cord.
By that point, he'd lost the ability to walk. 
He was rushed by ambulance to Billings, arriving after midnight on Feb. 1, and went immediately into surgery. 
"It was scary," Maisashvili said. "You're in a foreign country, no one is around."
The doctor on call was neurosurgeon Michael Copeland, who looked at the MRI scan and agreed it was likely an infection. Maisashvili had had surgery near the same place on his back as a boy and it's not uncommon for infections to creep in, even years later. 
Copeland described it as a pretty straightforw ...
Added: one year ago