Author tells the story of a Battle of Midway hero from Montana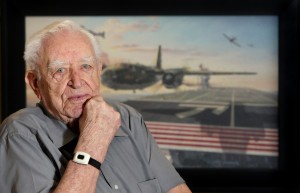 Montana pilot Jim Muri thundered into military history 75 years ago during the Battle of Midway by steering his badly crippled bomber just a few feet above the deck of the Japanese aircraft carrier Akagi.
Muri likely saved his own skin and the lives of his crew members with his brilliant maneuver. After flying the length of the Akagi's deck and shaking off attacking Japanese fighters, he managed to nurse the stricken twin-engine B-26 back to Midway Island, the remote American outpost that the Japanese failed to conquer during a decisive three-day battle June 4-6, 1942.
Decades after the battle Muri explained that his desperate maneuver was his only option. By buzzing the Akagi's deck, he reasoned, the ship's antiaircraft crews couldn't swing their guns around fast enough to blast him out of the sky. "The guns were all pointed out. It was the safest place to be," he said.
"I always said we would have touched down if we had lowered the gear," Muri said in a 2002 interview.
When Muri died in 2013 at age 93, his obituary was published in the New York Times and many other national publications.
Dozens of books and numerous movies and at least one song have been devoted to the epic Battle of Midway, which turned the tide against the Empire of Japan less than a year after a surprise attack on Pearl Harbor brought the United States into World War II.
Despite a mountain of research already devoted to the battle, Montana author Dennis Gaub hop ...
Added: one year ago