South-central and southeast Montana can be the right place for anglers of all skills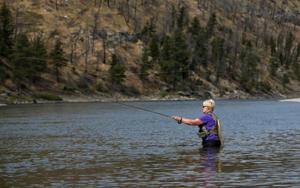 Trina Mailloux fishes in the Yellowstone River at the Holmgren Ranch access outside Columbus last fall. While many people fly fish on the river, anglers can also hook into trout using bait, spoons and spinners. 
Billings angler John Kemmick scans a side channel of the Stillwater River in 2011. The Stillwater is a nice option for anglers who want to experience the beauties of nature and have a chance to catch beautiful trout all at the same time.  
Those hoping to have a good time fishing can visit the Bighorn River. While there may be crowds, there are plenty of opportunities for anglers to reel in a healthy fish either while wade or float fishing. 
Gayle Whittenberg fishes the Bighorn River near Fort Smith. While on the world-renowned fishery, it isn't uncommon for anglers to hook into 15- to 18-inch rainbows and 13- to 16-inch brown trout. 
Billings angler Chad Maki caught this smallmouth bass on a pumpkinseed jig while fishing on the Yellowstone River on Sept. 23, 2015. While many equate Montana to its blue-ribbon trout fishing waters, anglers hoping to catch other species can target the lower Yellowstone in search of ling, catfish, sauger, walleye, smallmouth bass and other warm-water fish. 
In Montana in the spring and summer, true joy for many includes outdoors fishing.
Once lunch and fishing gear has been packed, remember to bring dry clothes (in case you get wet), a coat, hat, sunscreen and insect repellent.
Below are a ...
Added: 10 days ago