South-central and southeast Montana can be the right place for anglers of all skills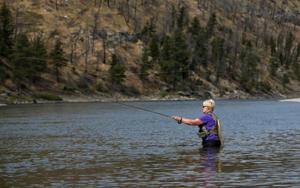 In Montana in the spring and summer, true joy for many includes outdoors fishing.
Once lunch and fishing gear has been packed, remember to bring dry clothes (in case you get wet), a coat, hat, sunscreen and insect repellent.
Below are a handful of spots those who fish must try out when coming to Montana.
Bighorn River
The Bighorn is one of the world's most famous rivers for trout fishermen. It is truly a blue-ribbon trout fishery. 
The Montana FWP 2016 Annual Fishing Newsletter states that since 2005 angling pressure has steadily increased on the river. But, population estimates near Three Mile Access resulted in 4,504 brown and rainbow trout of all sizes per mile. For the lower river near Mallard's Landing Fishing Access Site, brown and rainbow estimates were 924 trout of all sizes per mile. The Mallard's Landing Access is below the Bighorn Fishing Access and sees considerable less traffic from fishermen compared to the main 13-mile stretch from the Afterbay to Bighorn FAS.
While there is a very small portion, from the Afterbay Dam to the cable 600 feet downstream, where anglers may use bait on the main 13-mile stretch of the river, artificial lures only are allowed from the cable 600 feet below the Afterbay Dam to Bighorn FAS. Duane Schreiner, owner of Bighorn Fly and Tackle Shop in Fort Smith, said anglers should be aware that they cannot use motors on their boat in the 13-mile section. 
Anglers can be found throwing Rapal ...
Added: one year ago