Rollover south of Miles City sends 8 to hospital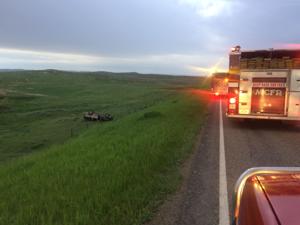 A single-vehicle rollover 25 miles south of Miles City Saturday evening injured eight people.
At just before 7 p.m., Miles City Fire Rescue responded to a call where an SUV containing a driver and seven passengers rolled 50 to 60 feet down an embankment on Highway 59, Battalion Chief Branden Stevens said in a news release.  One person was trapped in the vehicle.
Miles City Fire Rescue, Custer County Rural Volunteer Fire Department, Montana Fish Wildlife & Parks and Montana Highway Patrol responded to the call with three ambulances, two fire engines, and two support vehicles. All eight patients were transported to Holy Rosary hospital in Miles City.
Traffic on Highway 59 South was limited to one lane during the incident.
Added: one year ago