'Our big time to shine': Miles City Bucking Horse Sale blends good times, Western lifestyle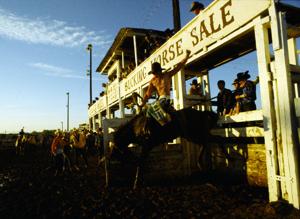 The Miles City Bucking Horse Sale brings in more than 10,000 people each May for the rodeo, sale and other events.
Fans at the fairgrounds salute the flag held by Miss Rodeo Montana Laramie Pursley during the singing of the National Anthem in 2014 at the Miles City Bucking Horse Sale.
Josh Davidson rides during the World Class Bucking Futurity at the Miles City Bucking Horse Sale in 2014.
There are the livestock sales and rodeos. The raucous street parties and Sunday cowboy church session.
Those are all hallmarks of the renowned annual Miles City Bucking Horse Sale, but ask those who've been around for a while and the heart of the event some call "The cowboy Mardi Gras" may be a little tougher to explain.
"As it is, the things we do from a tangible standpoint, I think we outdo even that with the intangibles," said John Laney, executive director of the Miles City Chamber of Commerce and a member of the event's governing board. "You're dealing with an incredible group of people and a lifestyle that is maybe unfamiliar to a lot of the people who might be visiting."
For more than 65 years, the Bucking Horse Sale — held in Miles City on the third full weekend of each May (19-21) — has been a time to not only showcase livestock, but also f ...
Added: 11 days ago