Mary 'Frances' Holdbrook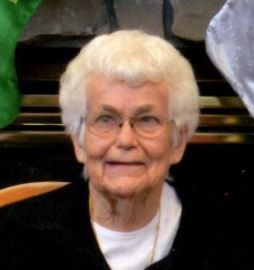 Mary "Frances" Holdbrook
On Saturday, May 6, 2017, Mary "Frances" Holdbrook of Billings, formerly of Boyd and Red Lodge went to be with her Lord. She was the first child of Doyle and Rose Marsh on Oct. 27, 1930 and homesteaded in the Bull Mountains.
Her life was turned upside down when her mother passed away when she was 10.  She lived with different relatives and attended a new school every year but graduated from Musselshell High. Always wanting to be a teacher, she was invited by her uncle and aunt to live with them and attend Miles City Community College. Here is where she met and married Willard Holdbrook in 1951, and started their family with son John and daughter Linda. They moved to Red Lodge in 1959, and welcomed son Darrel. Frances taught in Red Lodge rural schools until 1966 when she started teaching kindergarten. 
After retirement they built a home in Boyd and loved raising a garden, cooking and learning new hobbies of quilting and painting (she became quite the artist).
Frances was preceded in death by her parents, husband Willard, son-in-law Don Vondra, and step-sister Helen. She is survived by sons John (Deb), Darrel (Sue), and daughter Linda Vondra. Grandchildren Alena Larsen (Ben), Miles (Jessica) Ryan, Luke (Mariah), Seth (Kailie), Zane, and Clint. Great Grandchildren Erika and Emily Larsen, Baylee and Tayton Vondra, Rylee, Shawn, Laynee and Colt Holdbrook. Brother Dale (Donna) Marsh, and sisters Anne (Don) Adoph, Dodie (Frank) Zweifel, and Sharon (Dick) Schwab.
A Funeral Service will be held at Monday, May 15, 2017, at 11 a.m., at St. John's Catholic Church in Joliet, with Rite of Committal to follow at the Joliet Cemetery. Memorials may be made to St. John's Catholic Church in Joliet or Boyd Boosters. Condolences can be made to the family by visiting smithfuneralchapels.com. 
Added: one year ago