Project to make canal less deadly for kids is collateral damage in bonding fight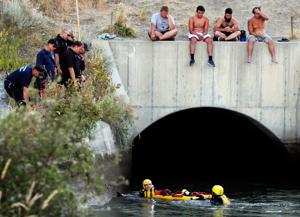 A dive-and-rescue team search through Tunnel 1 of the Huntley Project Irrigation District where a 12-year-old girl went missing last July. The district wanted to get $13.5 million from the state to eliminate the canal but the money was not approved this Legislative session.
Chris Dover of Absaroka Search Dogs and her dog Napi walk along the Huntley Project Irrigation canal during the search for 12-year-old Taeva Hawkins last July.
Veteran and former state legislator Bob Pavlovich, of Butte, stands next to the weathered sign on the site where he hopes the southwest Montana veterans home will be constructed. The Montana Legislature on the last day of the session voted down an infrastructure bonding bill that would have served as a bridge loan to build the facility while a federal loan is pending. Pavlovich thanked the 64 lawmakers that voted for the bill and went on to say he wondered if the 34 legislators who were against it could look the veterans in their communities in the eye and tell them they voted against it.
HELENA — Last summer a 12-year-old girl jumped into a canal that's part of the Huntley Project Irrigation District with three of her friends and tried to swim through a tunnel.
After her body was found several days later, it became a priority of the Bureau of Reclamation, which established the project in 1907, to eliminate the appeal the tunnel held for children on a hot summer day.
The bureau granted $1 million to the district, ...
Added: one year ago