Washington state finishes study of proposed port for Montana and Wyoming coal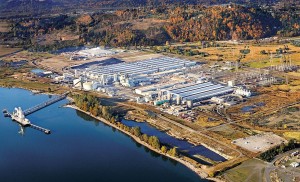 A proposed Washington state port would increase greenhouse gas emissions, but coal dust from trains traveling from Montana and Wyoming mines would not harm human health, regulators said in a report released Friday.
Those were among the findings in the final environmental impact study released by the Washington State Department of Ecology on the proposed Millennium Bulk Terminals project, which would be North America's largest coal export dock.
The $680 million project outside Longview, Wash., is the last of six proposed Pacific Northwest coal docks standing, but it still faces steep hurdles before becoming reality.
Workers at Millennium would handle 44 million tons of Powder River Basin coal annually, and the facility would generate 16 train trips daily to the port about 50 miles north of Portland, Ore., along the Columbia River.
The fate of the coal port is of big interest to Cloud Peak Energy in Gillette, Wyo., which has an agreement to ship 7 million tons of coal from its three mines in Montana and Wyoming through Longview.
"Cloud Peak Energy remains committed to meeting the needs of our customers in Asia, and the Millennium Bulk Terminal will be an important piece of trade infrastructure in the Pacific-Northwest," company spokesman Rick Curtsinger said in an email.
The project has become a flashpoint in the struggle between supporters of struggling coal jobs and environmentalists and residents along the proposed route.
Mark ...
Added: one year ago