Part of 128-year-old BLM debt closer to settlement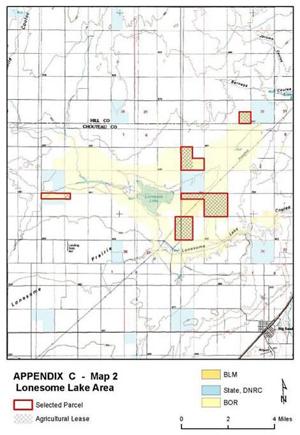 This map, which is part of an Bureau of Land Management environmental assessment, shows parcels of federal land proposed for transfer to the state of Montana.
The BLM is negotiating a deal with the state of Montana to settle a 128-year-old debt by transferring some federal lands to the state.
Grazed and farmed federal land in north-central Montana proposed to be restored to native shortgrass prairie is being considered by the Bureau of Land Management for transfer to the state of Montana.
The 2,120 acres of BLM land, valued at $1.7 million, is next to Lonesome Lake, a prairie wetland about 10 miles northwest of Big Sandy. In its management plan for the area the BLM had identified the acreage for return to a native prairie to benefit wildlife in the area.
The BLM is also considering the transfer of 6.11 acres in Miles City, valued at $109,980, to the state. Details of the transfers are outlined in a recently released environmental assessment on which the BLM is taking public comment until May 22.
Enabling Act
The land transfers are being proposed because the BLM owes the state $4.1 million worth of land under the Enabling Act of 1889. The act admitted Montana, Washington, North Dakota and South Dakota to the Union and gave states sections 16 and 36 of each townshi ...
Added: one year ago