Laurel intake bill relies on bonding effort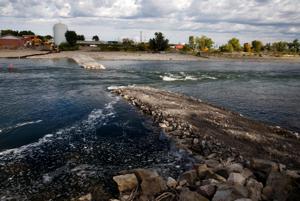 A temporary rock weir is pictured in September 2016 at Riverside Park in Laurel to help boost flows over the old Laurel water intake in the Yellowstone River.
Funding for Laurel's water intake project remains alive in the waning days of the Montana Legislature, but it now depends on the outcome of the bonding debate.
The state Senate passed an amended version of House Bill 586 on Wednesday. The bill originally proposed a $2.5 million appropriation to the city of Laurel to help pay for its water intake, which is close to completion in the Yellowstone River.
Amendments made by a Senate committee this week removed any monetary appropriation in the bill and replaced it with language relying on an infrastructure bill.
Rep. Dennis Lenz, a Republican representing the Laurel area, sponsored the bill and said it was tough to get a standalone appropriation through the Legislature.
"If they were going a straight up or down vote on the bill, it was going to die in Finance and Claims (committee)," he said. 
Laurel's best shot at intake funding appears to be in Senate Bill 367, a bonding bill carried by state Sen. Eric Moore, R-Miles City. Statewide infrastructure bills like his have been contentious topics for m ...
Added: one year ago