Fate of infrastructure bonding bill up to House Republicans, who reject attempt to revive it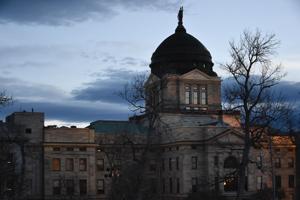 The Montana State Capitol building in Helena.
HELENA — Both bonding proposals to fund hundreds of infrastructure projects statewide sit in the House as the end of the Legislature looms this week — and one of those bills was again rejected Monday.
The failed vote to revive House Bill 645 was seen by many at the Montana Capitol as a gauge of how close the Republican-controlled Legislature is to reaching a compromise with Gov. Steve Bullock, a Democrat. Who is responsible for taking the lead on future negotiations and who should concede what depends on whom you ask.
Rep. Mike Cuffe, the Eureka Republican who carried HB 645, said the governor must do more to appease Speaker of the House Austin Knudsen, R-Culbertson. Knudsen blamed the governor for not being willing to consider a smaller bonding package or proposed vote trades, including a suggestion that Democrats should revive a charter school bill.
Bullock declined to comment, but House Minority Leader Jenny Eck, D-Helena, said the responsibility falls to Knudsen to move his party forward and argued that Democrats have already supported cutting the value of the bonding package by half from what Bullock had proposed.
Frustrated with conservatives who want to remove building renovation projects from the bonding bill that are the priority of urban communities, Democrats are holding hostage a cash infrastructure bill, HB 8, that would pay for water projects in rural, primarily Republican communi ...
Added: one year ago