Mexican restaurant planning move to former Johnny Carino's spot in Billings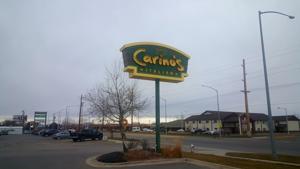 The owner of a Mexican restaurant is planning to move into the former Johnny Carino's spot at 3042 King Ave. W.
Fiesta Mexicana is seeking a special review permit from the Billings City Council to operate an all-beverage establishment and a casino, said Bob Pulley, a broker representing the building's owner, Denny Menholt Chevrolet.
The Billings Zoning Commission unanimously approved the application April 14. Pulley said he expects the City Council will also vote yes.
Fiesta Mexicana is owned by Miguel Murillo, who also owns restaurants in Belgrade, Sidney and Miles City, Pulley said. He said the business plans to open early this summer.
Johnny Carino's, a chain Italian restaurant, closed suddenly in December after 12 years. It was owned by Paul and Karen Ward of Bozeman, who kept restaurants in their hometown and Missoula operating.
The lot has been used for parking for Denny Menholt vehicles since the closure.
Added: one year ago