Artifact Roadshows hit Ekalaka, Miles City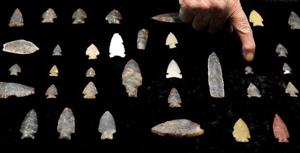 Tom Samsel points to a tiny arrowhead in his collection during the Artifact Road Show that was held in Billings in 2015.
Archaeologists will be available for a series of "Artifact Roadshows" scheduled in Ekalaka and Miles City.
The Ekalaka event will be held on April 21 at the Carter County Museum from 1-4 p.m. and on April 29 at the Miles City Public Library from 1-4 p.m. Participants don't have to bring anything to attend.
"People have shared some amazing finds with us at our previous road shows," said Doug Melton, Miles City Field Office lead archaeologist. "They've brought in a variety of items such as fossil bone, projectile points from some of Montana's earliest residents, even rare glass beads."
For more information contact Melton at 406-233-2800. More events for 2017 are listed on the Montana Archaeology Society website at: http://mtarchaeologicalsociety.org/16401.html.
Added: one year ago