'Mail goes by us like 2 times before it gets here': Rural Montana waits for Postal Service reform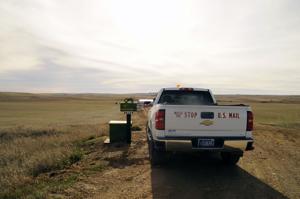 Fairview rural mail carrier Robin Trudell makes a stop along her 82-mile route that takes her along county roads outside town in November 2015.
Daines, R-Mont.; Tester, D-Mont.
Rosebud School students know the shortest distance between two points is a straight line, which is why the U.S. Postal Service's mail route to this tiny Eastern Montana town is a head-scratcher.
"The mail goes by us like two times before it gets here," said Lori Reierson, who works in the school's main office.
Letters from the sorting center in Billings are trucked past Rosebud to Miles City, then trucked by again from Miles City to Forsyth, before making it to the school.
The mail has taken this spaghetti noodle route since 2011, when the debt-ridden U.S. Postal Service began cutting sorting centers and limiting local post office hours to four on weekdays and none on Saturdays.
USPS has closed processing centers in Butte, Havre, Helena, Kalispell, Miles City and Wolf Point since 2011. More mail now moves through processing centers like the one in Billings.
Observers say improvements aren't on a fast track with President Donald Trump. Postal service reform hasn't been a priority. Congressional leaders are forecasting postal reform in the next two years.
Still, mail-dependent businesses like small newspapers are lobbying for reform. Jim Rickman, CEO ...
Added: one year ago