Budget Builders: Tight-knit group of legislators chart fiscal course for Montana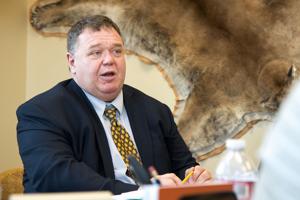 "We believe this is a good solid package that will take care of Montana's needs," says Llew Jones, R-Conrad, at a press conference after the Senate's passage of House Bill 2. The Senate passed HB2, the budget bill, on a 29-to-20 vote. The House will now consider the amended bills. 
Sen. Jon Sesso, D-Butte, Senate Minority Leader, speaks at a hearing in January on a bill that would help fund a veterans home in Butte.
Rep. Nancy Ballance, R-Hamilton, listens during a press conference on the opening day of the 2017 Legislative Session.
Dan Villa, the governor's state budget director, speaks in favor of a gas-tax increase during a House hearing in February.
HELENA — Sen. Llew Jones occasionally smirked from his seat at the head of the table last week as members of the Senate Finance and Claims Committee proposed amendment after amendment to strip funding from parts of the state budget he had built.
Just a few weeks earlier, Rep. Nancy Ballance had been in the same figurative chair, although her literal seat was two floors lower in the Montana Capitol as Democratic House members tried to increase spending for a variety of state programs.
The attempts in the Senate and the House failed. The budget would advan ...
Added: one year ago