Lower gas tax proposal moves forward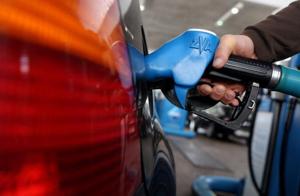 MUNICH, GERMANY - MARCH 23: In this photo illustration a man refuels his car on March 23, 2010 in Munich, Germany. German President Horst Koehler said higher petrol prices could help make Germans become more environmentally conscious. (Photo Illustration by Miguel Villagran/Getty Images)
HELENA — Enough state lawmakers agreed Thursday night that 4.5 cents is the right amount to raise the state gas tax, and got the proposed increase over a key legislative hurdle.
In a long debate, a legislative committee was divided over how much was too much of an increase for Montanans, who currently pay 27 cents a gallon. The initial pitch was 8 cents, proposed in early February by Rep. Frank Garner. An attempt to lower the amount to 3 cents was shot down Thursday, and the 4.5-cent jump that will increase to 6 cents by 2023 passed on a 11-7 vote.
Money from the gas tax goes into the highway state special revenue fund and is used to leverage federal money to pay for road construction, repairs and improvements.
In 2015 the tax generated $294.2 million, but the agencies that draw from it — mainly the Department of Transportation, along with the Department of Justice in a far smaller amount, and a few others — spent $308.5 million.
Expenses have outpaced revenues since 2011, and by July the fund is projected to be in the red. The drop is attributed to more fuel-efficient vehicles and a slowdown in industries such as oil drilling, which heavily use diesel fue ...
Added: one year ago