Johanna Muller Anderson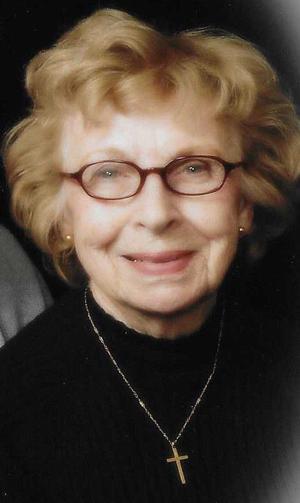 JOHANNA MULLER ANDERSON
Johanna Muller Anderson
The matriarch of our family, Johanna Anderson, passed away on March 29, 2017, at age 94, in Billings, Montana. She had a strong will to live. Despite her numerous medical challenges, she seldom complained. The last year of her life she had an amazing sense of humor and wit. Johanna's intelligence remained to the end and her strong faith in God never wavered.
On July 22, 1922, Johanna was born to Gustav Johann and Elsie Barbara (Loffelhardt) Muller in Meinhardt, Germany as a United States citizen. She traveled at age three across the Atlantic by ship to the United States via Manhattan Island with her mother to join her father who was already established here. The family settled in Huntington Park, California, where Johanna's only sibling, Louise Caroline was born in 1927. Due to Elsie's ill health the family relocated to Billings, where Gustav was employed as a charcuterie for Midland Packing Company. His recipes are used today.
Being raised by immigrant parents, German was the predominate language spoken in their home; consequently, Johanna entered first grade only speaking the German language. She attended Roosevelt grade school which she dearly loved, and high school at Lincoln school. Her senior class of 1940, was the first class to graduate in the new Senior High School building, where she ranked 13th academically. She continued her education and graduated from Normal School at Eastern Montana College in 1942. It was wartime, only eight men and 75 women graduated that year. She taught school in Lavina, Livingston, and Miles City. While in Lavina, she gave up her lunch hour to teach a group of high school students who wanted to learn shorthand. She also taught music and was blessed with perfect pitch. Johanna was a dedicated teacher. She loved teaching. Her students in turn held Miss Muller in high regard.
While living in Miles City, Johanna went dancing and saw Andrew Carmen Anderson, a handsome Scandinavian. One might say "he swept her off her feet." They dated and were married on July 31, 1946, at Trinity Lutheran Church in Billings. Yellowstone Park was the honeymoon destination that they toured in a black 1946 Hudson sedan.
The move to Harlowton was in 1949, where Carmen was a machinist employed by the Milwaukee Railroad and soon was promoted to roundhouse foreman. There, they spent the next 50 years and raised their four children, Carol Louise, Delia Jean, Arla Jane and Brent Carmen.
Even as a youth Johanna's faith was important to her. She walked or roller skated to attend church services and Walther League youth meetings. Johanna was baptized in Germany. She was confirmed and was married at Trinity Lutheran Church in Billings with Reverend Paul Freiburger officiating. Johanna provided a Christian home for her family with regular church attendance, daily Bible devotions and prayer. When in Harlowton, Johanna was president and held numerous offices at LWML (Lutheran Women Ministry League). At the time of her passing, she was a member of Mount Olive Lutheran Church in Billings.
Johanna, with the help of Carmen, worked diligently taking care of her three young daughters while caring for her elderly parents until they passed away.
Carmen and Johanna bought a ranch south of Harlowton in 1964. Johanna was her husband's helpmate on the farm. She was involved with stacking hay, herding cows, driving grain truck and farm accounting.
Johanna loved gardening, canning and sewing. Exercise was always important to her. She enjoyed league bowling. Her culinary skills were nutritious, old-fashion, savory, and delicious. She brought a sense of order, excellence and attention to detail in her household. She was a strong and loving mother with a tireless work ethic. Born in the Depression she knew the value of a dollar and was extremely frugal. Involved in her children's life, she was a 4-H leader and taught Sunday school for many years. The pleasure Carmen and Johanna found in fishing created many memorable outings for the family. She had an eternal love for her husband and her children. Her grandchildren and great-grandchildren were her delight. She was a very giving and compassionate woman.
Johanna was preceded in death by her husband Andrew Carmen, her daughter Delia Groh Jones, and son Brent Anderson.
She is survived by her sister Louise Schinnerer of Lake Forest, California; her daughters Carol Wood, Arla Hablutzel and her husband Gary; her grandchildren, Wyatt Wood of Conrad, Whitney Linder (Wayne) of Glasgow, Kyle Groh (Andrena) of Circle, Celeste Elliot (Justin) of Chinook, Amber Strommen (Jake) of Vandalia, Tim Fiske (Jenny) of Broadview, Autumn Floch (Jacob) of Butte, Anders Fiske (Nicole) of Molt; and 20 great-grandchildren, Xavier Wood, Dylan and Andrew Linder, Kaleb and Paul Groh; Benton, Britton, Brockton and Bryce Elliot; Elise, Cienna, Kade and Kort Strommen; Lane, Gunner, Hailey, and Lilian Fiske; Naomi Floch; and Anders and Raegan Fiske.
A memorial service will be held at 11 a.m., April 17, at Mount Olive Lutheran Church in Billings, with Pastor Mark Grunst officiating. Memorials are suggested to Mount Olive Lutheran Church, 2336 St. John's Ave, Billings, MT 59102 or LaVie, 2321 Broadwater Ave, Billings, MT 59102.
Added: one year ago