Pedal desks, sit-and-stand spins help kids focus in school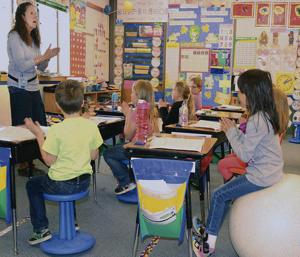 In a March 14, 2017 photo, Pam Holland, far left, leads her students in an exercise break where Hunter Woolstenhulm, near left, and Austine Limberhand use their unsteady seating to help them focus their attention, at Garfield Elementary School in Miles Cit, Mont. (Steve Allison/Miles City Star via AP)
MILES CITY — Anyone who walks into first-grade teacher Pam Holland's classroom in Garfield Elementary School in Miles City will notice the bright colors on every wall, posters galore and the odd-looking furniture throughout the room.
With the help of several donors Holland was able to purchase several new pieces of classroom furniture — a pedal desk, and a sit-and-spin desk.
In Holland's classroom, the traditional plastic straight-backed chairs have almost been completely replaced with alternative seating such as wobble seats, exercise balls, the peddle desk, and the sit-and-spin desk.
"This whole thing started because my classroom this year has some high-needs kiddos. In terms of needing to be able to move throughout the course of their day. I have some kids who were outwardly active and off-task a fair amount. What I found when I started doing research was that kinesthetic classrooms are not just for those kids who have issues with attention and issues with activity levels," said Holland.
According to Holland, the movement allowed by the seating in her classroom also helps ...
Added: one year ago