Montana Heritage Center bills advance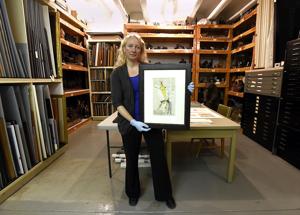 Historical Society curator Amanda Streeter Trum stands in the art vault with a ledger art drawing made by Curley, a Crow scout with the United States Army who survived the Battle of Little Bighorn.
HELENA — Montana's Senate and House passed similar bills Friday to fund construction of the proposed Montana Heritage Center in Helena.
Democratic lawmakers Rep. Jenny Eck of Helena and Sen. Jill Cohenour of East Helena saw their bills pass to raise taxes on accommodations and campgrounds by 0.5 percent, with revenues going to construction of the center and historic preservation grants that could be used statewide.
The Montana Historical Society has pushed for a decade for remodeling and expansion of the existing facility. Advocates point to the conditions in the current building as potentially jeopardizing historic artifacts and artwork due to lack of temperature and humidity control. Expanding space to display collections is also a major inspiration for the project.
"We're at risk of losing it if we don't do something to update this facility," Eck said on the floor, calling the solution "creative" as she advocated for House Bill 660.
The combined new and renovated facility, which would be called the Montana Heritage Center, would be a boon to tourism, she said.
"If you want to save your history and you want to save your heritage, vote for this bill," Rep. Bradley Hamlett, D-Cascade, said in support.
HB660 and Cohenour's Senate Bill ...
Added: one year ago