'Who would want to live in a town without a church in it?'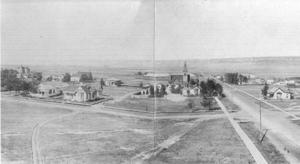 The Rev. Benjamin Shuart had his work cut out for him when he arrived in Billings in April 1882.
Shuart helped found one of the three earliest churches the same year that the town named after Frederick Billings came into being. Billings was president of the Northern Pacific Railroad.
It was just six years after the Battle of the Little Bighorn, and seven years before Montana became a state.
"At this early stage in the growth of Billings, the gambler, the dispensers of strong drink and women of the 'red light' were numerously represented in Billings and plied their several occupations, brazenly and without," Shuart wrote in his memoir.
His reminiscences, jotted down in the 1930s, are included in "Our First One Hundred Years," produced by First Congregational Church.
Shuart left Minneapolis for Billings on April 9, 1882, with a commission from the American Missionary Association of New York City. He was assigned to the Billings territory of Montana to establish a Congregational church.
From Miles City, the terminus of the railroad, Shuart proceeded to Billings via horse and buggy. When he reached his destination, he found the only completed wooden structure to be the headquarters of the engineering company engaged in constructing the roadbed of the incoming railroad.
The missionary was warmly welcomed, "and everybody I met seemed to be pleased with the prospect of having a church in Billings" he ...
Added: one year ago