Lawmakers table privatization of $1.6 billion insurance fund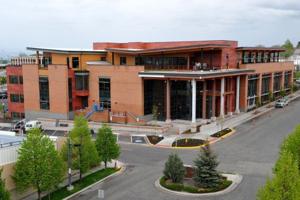 This photo from June 2010 shows the 110,000-square-foot Montana State Fund Building in the Great Northern Town Center. 
HELENA — Montana lawmakers on Friday put off further discussion on dismantling and privatizing the state's massive workers compensation system, saying the task was too daunting to take up in the waning days of the legislative session.
Instead, the matter will be studied more thoroughly in the months after the Legislature adjourns.
Getting rid of the $1.6 billion State Fund would be a major undertaking — not only in practical terms because of the thousands of businesses that would be affected but also politically.
While Montana Republicans, who control both chambers of the Legislature, have generally favored privatizing some aspects of big government, they appear split on what to do about the State Fund.
Republican Sen. Fred Moore of Miles City is sponsoring the bill on behalf of a small group of insurance companies that say doing away with the State Fund would increase competition and reduce workers compensation premiums.
But Senate Majority Leader Fred Thomas, a Republican from Stevensville, and Republican Rep. Greg Hertz of Polson scheduled a news conference after Friday's committee hearing to express their opposition.
While opponents acknowledge that Montana has some of the country's highest premiums, they worry that premiums would further rise for high-risk trades such as ...
Added: one year ago