Dolores Doris (Chambers) Westrum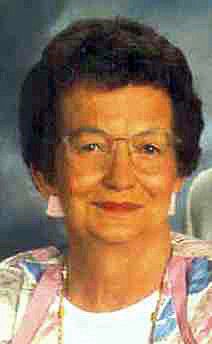 Dolores Doris (Chambers) Westrum
Dolores Doris (Chambers) Westrum was born on Sept. 11, 1929, in Weldon, McCone County, to parents Fred Chambers and Caroline (Finkbeiner) Chambers. Dolores passed away in Billings, in the gentle care of Tender Nest and Compassus Hospice on March 9, 2017. Dolores spent her early years on farms in the Weldon, Presserville and Circle areas of Northeastern Montana. In the 1930's, the Chambers family moved to a ranch near Ronan, and it was there that she became an accomplished horse woman. She worked alongside her father doing much of the outside work, including driving the stacker team to put up the hay. In the 1940's, the Chambers family returned to the Circle area, where Dolores graduated from Circle High School in 1947. On July 3, 1947, Dolores and William G. (Bill) Westrum were united in marriage. They were married for 67 years, until Bill's passing in 2014.
Dolores and Bill spent their early married life in Circle and Miles City, where their children were born. Eventually the family would live in Boulder, Butte, Helena, East Helena, Great Falls, and back to Circle before moving to Absarokee in 1967 and Red Lodge in 1974. Dolores always had time to help with her children's activities and enjoyed having coffee with neighbors. She made her home a warm, welcoming place, and she left no doubt that her family was her first priority. She was a wonderful cook and seamstress.
When Bill retired from Montana Bank of Red Lodge in 1982, they bought a small ranch near Roundup where they raised horses, donkeys and cattle. They enjoyed their retirement by riding and driving their horses, making pets of all their cows, and following their grandchildren's activities. During this time, Dolores began oil painting and through the years her talent as an artist emerged. Her paintings, as well as her crocheted afghans are treasured possessions of her children and grandchildren.
In 1991, Bill and Dolores moved to Fromberg, where they bought land and eventually built a house on Bluewater Creek. Once again they enjoyed their horses, gardening and visiting with neighbors. In 2013, Bill and Dolores moved to Absarokee to be near family, and in November of 2014, they moved to assisted living in Billings. Bill passed away in December of 2014 and Dolores then became a resident of Shipp's Assisted Living in Absarokee. In June of 2016, Dolores moved to Tender Nest in Billings.
Her husband, Bill, her parents, Fred and Caroline Chambers, her brother George Chambers and her sister, Pearl (Chambers) Kucera preceded Dolores in death.
She is survived by her sister, Vonnie (Chambers) Guldborg of Circle; her daughter, Glena (Tom) Atkins of Bozeman, and Cornville, Arizona; and her son, Rick (Rita) Westrum of Fishtail. Dolores is also survived by five grandchildren: Tory (Torrian) Atkins of Bozeman, Jolene Atkins Strifler (Lee-Jay) of Oregon, Wisconsin, Justin Westrum (Becca Najdowski) of Melbourne, Australia, Jamie Westrum Stone(Chris) of Mendota Heights, Minnesota, and Megan Westrum Yeretsian (Joseph) of Westwood, Massachusetts. Dolores was blessed with eight great-grandchildren, Ellyse and Connor Atkins, Henley and Cannady Strifler, Ashlyn and Jaclyn Stone, and Marina and Lukas Yeretsian. Dolores also had many nieces and nephews who were special to her.
If desired, memorials may be made to Compassus Hospice of Billings, or Help for Homeless Pets of Billings.
A celebration of Dolores' life will be held in the summer of 2017, and she will be laid to rest next to Bill at Yellowstone National Veteran's Cemetery, Laurel.
Added: one year ago