Billings students back bill that would allow Native American dress at high school graduations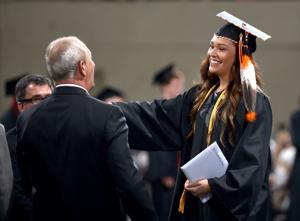 Kaitlin Hugs receives her diploma Sunday during the Billings Senior High Class of 2016 graduation ceremony at Rimrock Auto Arena at MetraPark.
Natasha Goes Ahead waits in line before commencement for Senior High School at the Rimrock Auto Arena on Monday, May 28, 2012. Senior graduated 361 students.
Members of the Billings Tribal Youth Council meet at the Lincoln Center in November, including Chase Comes At Night, far left. The council is comprised of American Indian students from all three public high schools. Jazz Walker sits in the foreground.
Christina Stops waves at a friend as graduates from Senior High School line up before the start of the 2007 graduation ceremony Sunday at MetraPark Arena.
Senior High's 2012 graduation ceremony.
When Chase Comes At Night graduates from Skyview High next year, he won't be able to wear a traditionally beaded graduation cap like his peers at Senior High.
"They allow us to express our culture during Native American heritage month," the junior said. "But when we want to celebrate our culture and tradition, we're not allowed to, for our last moment as a Skyview senior or a West senior."
A bill passed by the Montana Senate w ...
Added: one year ago