Bill would prohibit county attorneys from ... owning bars?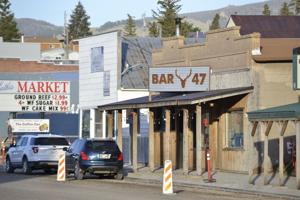 Bar 47 sits on Main Street in White Sulphur Springs. Meagher County Attorney Kimberly Deschene took over the business in 2014, leading some to accuse her of conflict of interest.
Meagher County Attorney Kimberly Deschene testifies Thursday at a hearing to determine the merit of a recall petition against her. The hearing was held at the Stillwater County courthouse after a White Sulphur Springs woman's petition led to court action.
HELENA — The attorneys for Montana's fifth- and 11th-smallest counties came to the Capitol on Tuesday to speak against a piece of legislation they say is targeted at one of them and is the result of small-town gossip from people unhappy that an elected official owns the local watering hole.
A drama that's played out in Meagher County over the last couple years made its way to the Legislature on Tuesday in the form of House Bill 472, carried by Rep. Wylie Galt, R-Martinsdale, whose district includes White Sulphur Springs, the county seat.
The legislation would not allow county attorneys to own bars.
"I think this bill is just aimed directly at me by a very small group of people who think it's wrong and have no basis for that feeling," Meagher County Attorney Kimberly Deschene told the House Judiciary Committee, which heard the bill.
A dispute between Deschene and John Lopp, the Meagher County sheriff, has been simmering for years. Lopp had reported violations at Bar 47 to the Department of Revenue. Deschene ...
Added: one year ago