Meth abuse overwhelms law enforcement, courts across the state, lawmakers told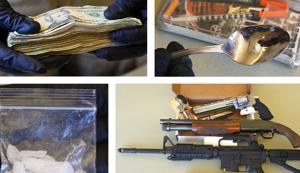 Evidence seized in meth-related crimes in Butte-Silver Bow includes methamphetamine and user paraphernalia kits with syringes, spoons, and scales as well as weapons and cash.
HELENA - The tentacles of methamphetamine abuse reaching across Montana are choking everything from state agencies struggling to keep up with increased workloads to Indian reservations with even fewer services than the rest of the state.
But putting more money and resources into prevention, treatment and keeping the drug from reaching communities can alleviate some of the problem.
That's what panelists told a group of legislators gathered at the Capitol on Saturday for what Sen. Eric Moore, R-Miles City, called the Montana Meth Summit. Moore, along with Sen. Diane Sands, D-Missoula, organized the summit to discuss the effects of the drug on the state.
Different state agencies struggle with the increasing strain on their programs caused by meth abuse:
Of all cases of child abuse and neglect investigated by the the Child and Family Services Division of the Department of Public Health and Human Services, by February 2017 42 percent involve meth abuse by parents or guardians, department deputy director Laura Smith told the panel. That number was 22 percent in 2008.
On the Fort Belknap Reservation, 98 percent of people relapse after exiting treatment because of a lack of sober living programs, Miranda Kirk, who runs the Aaniii ...
Added: one year ago