California woman sentenced in Glendive meth conspiracy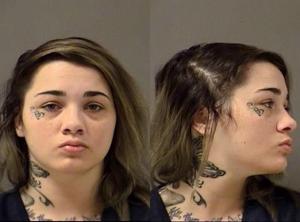 Blankenship
A California woman will spend five years in federal prison for her role in a meth conspiracy that distributed the drug in the Glendive community.
U.S. District Judge Susan Watters on Thursday sentenced Roper Ray Blankenship, 23, of Patterson, Calif., to the minimum mandatory five-year term for her guilty plea to a conspiracy count.
Blankenship was one of four people indicted for trafficking meth sent to Glendive under the direction of co-defendant Michael Vincent Villalobos, who used local addicts to store and distribute the drug.
The federal Drug Enforcement Administration learned through an informant that Villalobos had meth mailed from connections in California and sent back drug proceeds, said Assistant U.S. Attorney Colin Rubich earlier.
Blankenship acted as Villalobos' "key lieutenant," accompanying him on trips and possessing firearms, Rubich said.
Investigators from the Sidney and Miles City police departments twice pulled over Villalobos' vehicle in 2015 in traffic stops. Searches of the vehicle both times turned up meth and a firearm.
Rubich said Blankenship admitted to officers that the meth and guns seized, which included a .22-caliber gun and a .38-caliber revolver, were hers.
In sentencing Blankenship, Watters noted the abuse she suffered during her childhood and the beginning of alcohol and meth use before she was 15. The judge also recommended mental health tre ...
Added: one year ago