Oregon woman gets probation in case where meth was stashed in son's car seat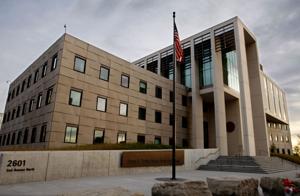 James F. Battin Federal Courthouse
An Oregon woman facing a prison sentence told a federal judge in Billings on Wednesday that she had cleaned up her life after getting convicted in a conspiracy in which a pound of almost pure methamphetamine was found hidden in a car seat occupied by her young son.
Rachel Ruiz, 31, of Portland, Ore., faced from about four years to almost five years in prison for her guilty plea to a conspiracy charge, but instead got four years of probation.
Ruiz was the last of three defendants convicted in the case to be sentenced.
Federal prosecutors charged Ruiz, Timothy Patrick Pine II, 37, of Miles City, and Francisco Gutierrez, 22, of Honduras, with trafficking meth from about January 2014 to June 2015 in Miles City, Missoula, Kalispell and other places in Montana.
Ruiz, prosecutors said, helped transport meth into Montana with Gutierrez. State and federal investigators used a confidential informant who would buy ounce and gram quantities from Pine.
U.S. District Judge Susan Watters followed a probation recommendation from defense attorney Vern Woodward, who argued that Ruiz had been sober for almost six months despite having used marijuana while on pre-trial release, had completed treatment and was "a new person."
"I like the sober life," Ruiz told Watters. Ruiz, who has a boyfriend and is working, also said she had no idea what would ...
Added: one year ago