Wet winter prompts warnings for future ice jams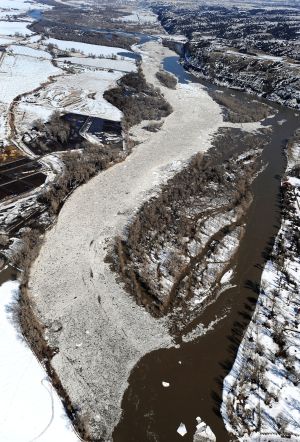 Water backs up as ice jams the Yellowstone River near Oscar's Dreamland between Billings and Laurel in March 2014.
Ice jams the Yellowstone River near Laurel.
The amount of precipitation this winter prompted officials to issue warnings about the potential for ice jams and flooding in the coming months.
It's a perennial concern for low-lying floodplain landowners. When the temperature rises and the ice breaks into fragments, it tends to accumulate at certain points. Enough ice in a jam will force the river water out over the banks.
"When it starts breaking into pieces, that allows the ice to pin up against itself and turn vertical and stack up," said Adam Carlson, Musselshell County Disaster and Emergency Services director.
The Yellowstone County Disaster and Emergency Services office issued an advisory Friday for concerned residents to start making preparations. Flood insurance, for example, takes a month to become effective, according to the release.
Julie Arthur, a meteorologist with the National Weather Service in Billings, said local measurements show 5.91 inches of precipitation have fallen since October. That's well above the normal value of 2.73 inches.
The high level of moisture is enough to advise caution for the coming months.
"We think the ice jam threat is pretty high this year as it gets warmer, probably toward late February and into March," Arthur said.
Increasing the spring runoff potential is a high ...
Added: one year ago