Debate opens on bills to help oversight of vulnerable kids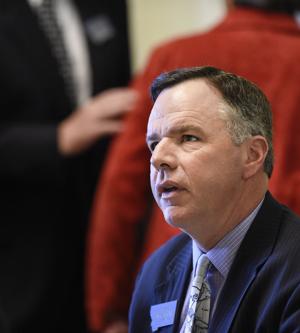 Sen. Eric Moore, R-Miles City, during the first day of Montana's 65th Legislative Session at the State Capitol in Helena. Moore is sponsoring a bill aimed at increasing oversight of the state's Child and Family Services agency. 
HELENA — Montana lawmakers have opened debate on proposals that aim to help the state's child foster care system and make the agency responsible for protecting neglected and abused kids more accountable.
Legislative committees held hearings Thursday and Friday on bills that would, in turn, strengthen the rights of the more than 3,400 foster children and their parents, and provide an alternative to foster care.
A third bill would allow lawmakers to view confidential case files held by the state Child and Family Services agency, under certain circumstances.
That bill's sponsor, Sen. Eric Moore, R-Miles City, said his measure and other legislation recommended by the Protect Montana Kids Commission would address a problem that has reached crisis level. Other issues may be subject to partisan wrangling this legislative session, but not this one, he said.
"One thing we're not going to do is we're not going to make political points on a 6-year-old kid in a meth house who hasn't had a meal in three days," he said.
The Protect Montana Kids Commission was created by Gov. Steve Bullock last year after the state's child protection agency came under heavy ...
Added: one year ago