Investigation focused on Custer County officer's use of force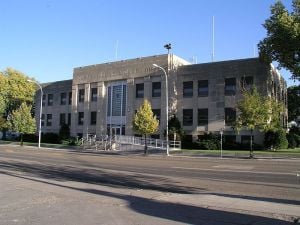 Custer County Courthouse - Miles City 
The Montana Department of Justice will review an investigation into a use-of-force complaint against a Custer County detention officer.
Officials have released little information about what the allegation entails, but an investigation began in early December.
The detention officer, Sgt. Tim Crews, has not been placed on any sort of leave during or since the investigation, Custer County Sheriff Tony Harbaugh said.
The inmate involved in the allegation has not been identified.
Miles City Police Chief Doug Colombik said Tuesday that his department received the request from the Custer County Sheriff's Office on Dec. 6. He called it an "alleged use of force incident."
A detective and a captain investigated and compiled a report, Colombik said, and the report was turned over to Custer County Attorney Wyatt Glade on Jan. 5.
Glade declined to discuss the allegations Wednesday.
"I would prefer not to, given that I'm going to be sending it to the Attorney General's office," he said.
Brant Light, prosecution services bureau chief for the Montana Department of Justice, confirmed that he had received notice of the report. There is no timeline for completion of that review.
It will be up to state prosecutors to review the investigation and determine if the evidence warrants criminal charges.
An earlier versio ...
Added: one year ago