FWP's law enforcement chief Flowers removed in unusual settlement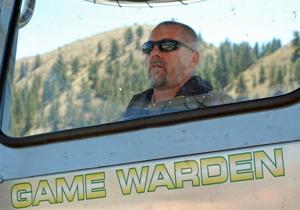 Helena-based game warden Sgt. Dave Loewen, shown in 2013, has won a hiring appeal and on Jan. 9 will become Fish, Wildlife and Parks' new chief of the Enforcement Division.
In an unusual labor settlement, Montana Fish, Wildlife and Parks has been ordered to remove its chief law enforcement officer, Thomas Flowers, and replace him with a 2015 competitor for the job.
Flowers' promotion in 2015 was successfully challenged by one of his officers, Region 3 warden Sgt. David Loewen, of Helena who had filed a grievance with the Board of Personnel Appeals. In its findings the board told FWP to appoint Loewen to "his position of choice," according to a Jan. 2 FWP email to staff members explaining the situation. Loewen is now scheduled to assume Flowers' job as FWP chief of law enforcement on Jan. 9. Flowers is on paid administrative leave.
Becky Docktor, FWP's chief legal counsel, said she's never seen such a ruling by the board before. More often it will direct the agency to redo its hiring process.
The board told ...
Added: one year ago