To schools or taxpayers? SD2 has $8.4M savings as bond work wraps up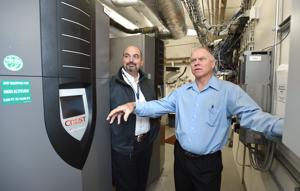 School District 2's Lew Anderson, right, and Scott Reiter look over upgraded heating systems at Meadowlark Elementary on Thursday, December 22, 2016.
A few years ago, winters in the northeast section of Meadowlark Elementary were a little chillier than the rest of the building. That's what happens when classrooms aren't directly heated. Instead, they relied on warm air bleeding over from the rest of the building.
Upgrades paid for as part of a $122.3 million bond passed in 2013 included a new boiler and other heating and ventilation upgrades for Meadowlark in 2014. The school is now more comfortable and efficient, with an Energy Star rating of 97 out of 99.
"It's not a habit to put on a coat or extra sweater when you're in those rooms anymore," said Principal Stacy Lemelin.
The district has another round of roughly $5 million of such projects coming up this summer. But trustees will soon have to decide if they want to spend the full amount of the 2013 bond or give taxpayers a break.
Including planned summer projects, School District 2 has issued $113.9 million in bonds. That leaves $8.4 million on the table, the result of changing interest rates that ending up giving School District 2 "premium money," according to chief financial officer Mike Arnold.
That cash could end up in schools or could end up in taxpayers' wallets.
Deferred Maintenance
Before the bond was passed, "we were just trying to keep the dike from leaking ...
Added: one year ago