More snow on the way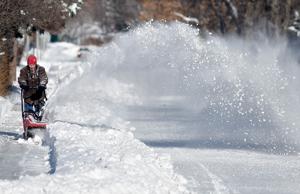 Joe Rookhuizen clears the sidewalks on the corner of Avenue C and 19th Street West on Sunday.
A winter storm is expected to bring from three to five inches of snow across much of southeastern and southcentral Montana for the Christmas weekend.
The National Weather Service said temperatures will turn colder on Saturday and winds will increase in southeastern Montana. Near blizzard conditions are expected in extreme southeastern Montana with major storm impacts in the Dakotas.
Snowfall amounts will range from four to six inches from Columbus, Billings, Hysham and Forsyth to Lame Deer and south to Fort Smith, while extreme eastern Montana, including Broadus, Miles City, Ekalaka and Alzada, could get from six to eight inches of snow. Baker is forecast to get eight to 12 inches of snow.
Snowfall on the western end, including Livingston, Big Timber, Harlowton, Nye and Red Lodge, is expected to be three to four inches.
Meanwhile strong crosswinds are possible on Friday, with gusts from 50 mph to 75 mph possible in the area from Livingston to Nye.
Skies will become increasingly cloudy on Friday in the Billings area. The high will be about 32 degrees, with southerly winds up to 18 mph and wind chill values as low as minus five degrees. The low will be about 16 degrees with mostly cloudy skies.
On Saturday, skies will be mostly cloudy with a 30 percent chance of snow and a high of about 25 degrees. The l ...
Added: one year ago