Don't know how you Southerners handle all that dark.






Note:
Length Of Visible Light: 21h 10m
Length of Day: 18h 24m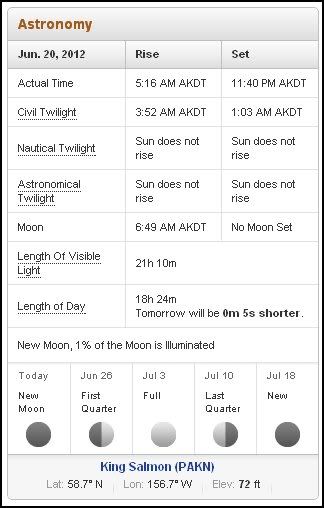 Where'd you get this? I'd like to see my area's stats. Since I'm even farther south I suspect we have less light than Miles City.
So, you're saying you are really in the dark?

Go here, http://www.wunderground.com, plug in a zip code and scroll down to the astronomy section.
Yeah, I don't know how you folks handle all that daylight during the winter.
Our length of light is only 16h, 11m today. No wonder we're the prozac capital of the west. Too much SAD.
SAD?

We go from a high of 21 hours of light to a low of around 6. The seasonal swing drives some folks over the edge.

When I lived in Montana people talked about SAD kicking in during the winter months when the days were short. But long days also hit some people hard. Some folks just cannot sleep when it's light (they are hurting this time of year). Some people go into a hyper-active mode and you see them doing outside chores at 2AM.

There is definitely a seasonal rhythm to life here - the pace of life quickens in the summer and slows down in the winter.

Summers don't seem to bother me much - I do find that I get a bit irritable in mid-winter, nothing too extreme though. But I still haven't gotten used to sunrise rolling around at 10:20AM in December - that seems unnatural.

It's interesting to me that "cabin fever" doesn't really hit until March. By then the days are getting longer, the sun comes out and your body starts telling you that it's springtime, but the reality is that there is still a lot of winter left in the season.